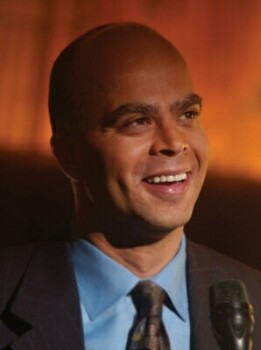 Chris Gillespie currently entertains audiences Tuesday - Saturday from either 5:30 PM - 8:30 PM or from 9:30 PM - 12:30 AM at the renowned Carlyle Hotel.
Mr. Gillespie performs in many different configurations; from the intimate trio formation or his Jazz Quartet to a 17 piece Big Band Orchestra.
... he plays and sings in a contemplative style that makes the American standards sound like newfound treasure and a passport to paradise. (Wilfrid Sheed author of "The House That George Built")
Through his unique synthesis of jazz and classical music, Christopher John Gillespie has created a personal style, which he calls "jazsical". He journeys into this exiting sound exploration with stylistic interpretations of different musical works as well as charts new territory through his own compositions. (Eleanor K. Hoffhein, Journalist)
What Some Say | Press | Samples | Video Link | Musicians | About | Projects | Calendar 2009 | What Do You Say?
This site was last updated 09/28/09